We have had a number of our anglersasking for recipes to cook their catch lately.
Here are a couple of our favourites plus a salsa that is absolutely divine with simple baked, fried or grilled fish whether Snapper, Kingfish or other species such as seared Tuna. We mostly enjoy it with grilled Kingfish.
Avocado, Tomato and Mango Salsa
Ingredients
1 mango, peeled, seeded and diced
1 avocado, peeled, pitted, and diced
4 medium tomatoes, diced
1 jalapeno pepper, seeded and minced
1/2 cup chopped fresh coriander
3 cloves garlic, minced
1 teaspoon salt
2 tablespoons fresh lime juice
1/4 cup chopped red onion
3 tablespoons olive oil
Method
In a medium bowl, combine the mango, avocado, tomatoes, jalapeno, cilantro, and garlic. Gently stir in the salt, lime juice, red onion, and olive oil. To blend the flavours, refrigerate for about 30 minutes before serving.
If a good mango is not available (or too expensive) then I find nectarines an excellent substitute. Even using tinned mango works just fine.
Wasabi Snapper Cakes
A firm favourite of Steve's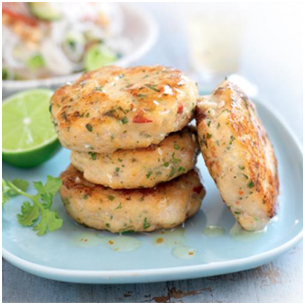 Ingredients
500g skinned and boned white fish fillets, Snapper is perfect
2 egg whites
2 tsp Wasabi Paste m
2 kaffir lime leaves, julienned and chopped
1 Tbsp cornflour
1 Tbsp grated root ginger
3 Tbsp chopped coriander
2 Tbsp canola oil
Wasabi sauce
1/4 cup lime juice
1 Tbsp light soy sauce,
1 Tbsp fish sauce
1 tsp Wasabi Paste
1 tsp castor sugar
Method
Chop the fish into small (5mm) pieces.
Combine with the egg whites, Wasabi Paste, lime leaves, cornflour, ginger and coriander and mix well by hand. Do not blitz in a processor
Use about 1 -2 good tablespoons of the mixture to form into cakes.
Heat the oil in a non-stick frying pan.Pan-fry the fish cakes in batches, about 1 minute each side depending on thickness, until cooked and golden.
Drain on paper towels and place in a 100 deg C oven to keep warm until all the cakes are cooked.
Whisk the ingredients for the wasabi sauce together and serve in small bowls or dishes on the side
Pistachio Crusted Fish with Roasted Lemon
Quick and easy to prepare, yummy as to eat.
Ingredients
4 firm fillets fish (you can use any firm fish. We love Snapper!)
1 packet of za'atar
½ cup shelled pistachio nuts, roughly chopped
2 Tbsp olive oil
½ fresh chilli, finely sliced (optional)
1 Tbsp lemon juice
1 Tbsp capers, roughly chopped
1 clove garlic, crushed
1 bunch Italian parsley, roughly chopped
1 lemon, cut in half then thinly sliced
To serve:
1 cup Greek yoghurt
¼ tsp sumac& a little grind of Himalayan salt
Method
Heat oven to 200°C.
Place fish on a baking paper-lined tray. Drizzle with a little olive oil.
Mix 1 tsp of za'atar, chopped pistachio nuts, olive oil, chilli, lemon juice, crushed capers, garlic and Italian parsley in a large bowl. Spread over top of the fish.
Place the finely sliced lemon (careful to remove any seeds) and layer 3-4 slices over the top of each fillet. Season with salt and pepper.
Place fish in oven, roast for 8-10 mins. Check how fast fish is cooking after 5 minutes by pulling fish gently apart. Remove as soon as fish is about to completely pull apart.
While the fish is cooking, discard any residual liquid off the yogurt. Place in a serving bowl, sprinkle with sumac.
Remove fish from the oven and serve with yogurt mix to one side.