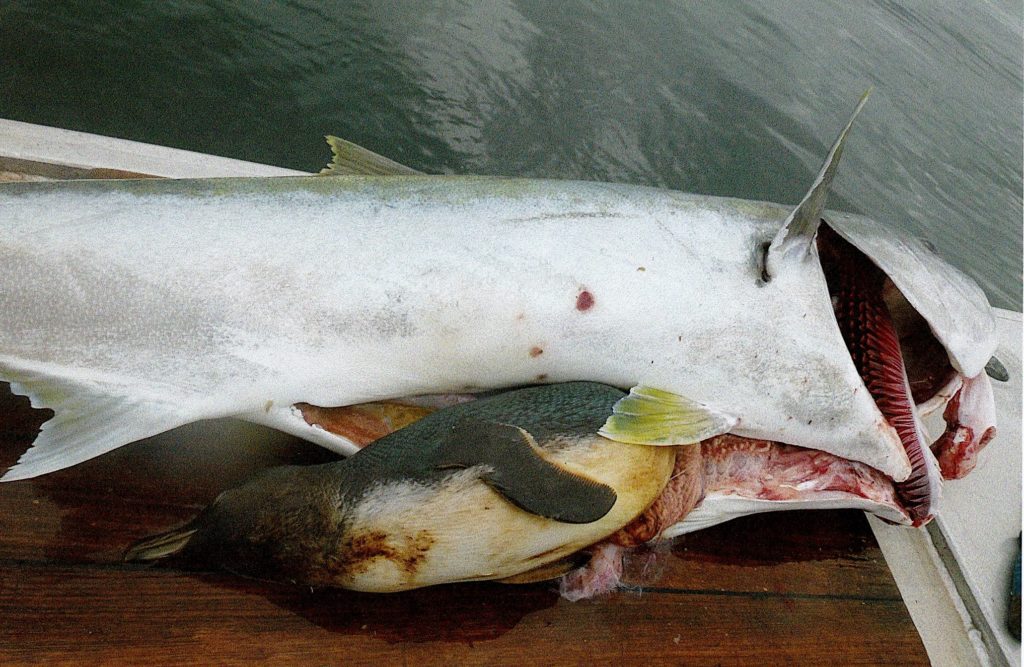 A few years ago this Kingfish was caught aboard Earl Grey II by one of our anglers. When Steve went to gill and gut this Kingfish he was amazed to find a freshly eaten whole penguin in the stomach cavity. And a good sized one at that… over 37 centimetres in length. Incredible to think the Kingfish had just caught this penguin then went on to chase down one of the live baits we had out. Surely he was not still hungry. Kingfish are renown as voracious feeders. The above photo certainly substantiates this claim.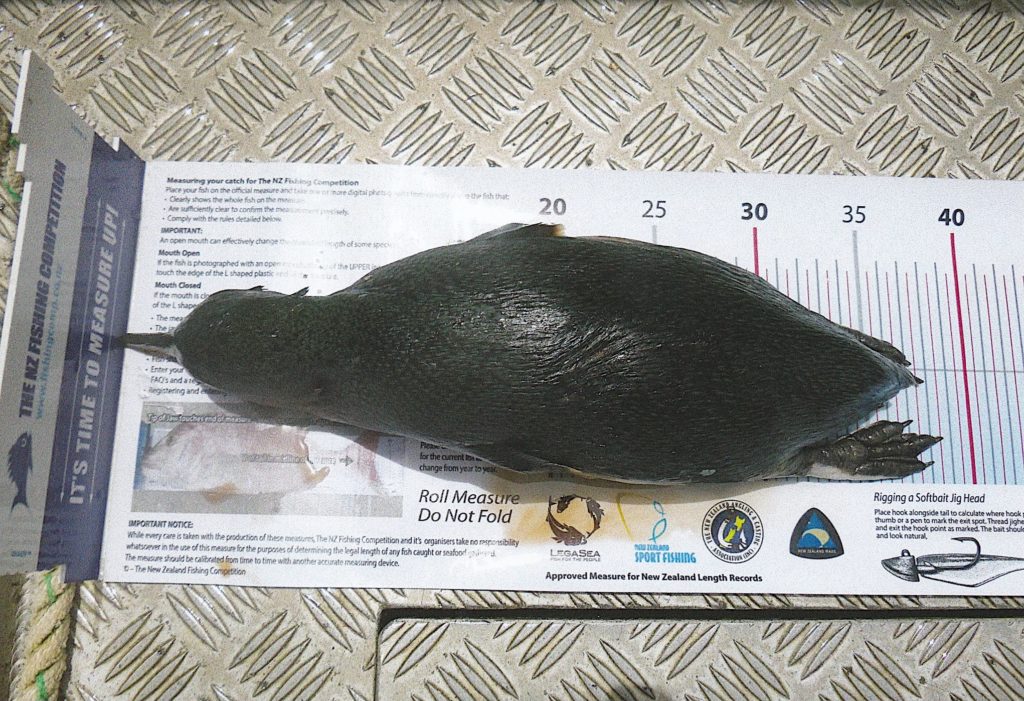 The largest Kingfish specimens in the world are caught in waters around New Zealand.Their lengths vary from smaller "rats" of 75cm up to bigger adults in the 2m range. Anything over 2 metres is a truly super-sized Kingi. But even Kingfish under 75cm can put up an amazing fight making them an excellent all year round gamefish to target in our waters.
It usually takes a Kingfish up to 21 years to reach its full growth size of 2.5 metres or more and they can weigh up to 40-45kgs and even more.
Kingfish inhabit rocky shores, reefs, pinnacles and the turbulent waters surrounding offshore islands in waters up to 200m deep. Juvenile fish are pelagic, free-swimming far out to sea and often gathering under floating objects. Adults are sometimes described as 'semi-pelagic' and occur mainly in open coastal waters. They patrol coastlines and reefs, entering shallow harbours in search of food and frequenting most marine habitats at various times, taking advantage of whatever food sources are available. Some fish take up residency on suitable reefs, seldom moving far from home.
Kingfish are active predators preying of other fish, squid and crustaceans. Juvenile fish start their lives eating plankton, but soon graduate to larger prey. Big kingfish are quite capable of eating live fish weighing several kilos.
Kingfish grow quickly at first, reaching between 2 – 3kg in their first year. The most recent studies indicate that females reach sexual maturity at around 5-7 years when they are between 78cm and 128cm and males between 75cm and 93cm. Earlier studies concluded that sexual maturity was reached at 70cm, which is why the legal size limit for kingfish is set at 75cm in New Zealand. So I wonder, will we see a change in minimum catch length in the future.